Since 2009, every year Linus and Nicola Savino have hosted children, volunteers and families by supporting the communication and fundraising campaign of the solidarity SMS. A unique opportunity to introduce listeners to the many stories of the Camp.
«I'm obsessed with bracelets. This was given to me at the end of the Dynamo session and I have never taken it off again ». Alyssa, 16, from Livorno, is not chatting with one of her friends over a cappuccino, but with Linus and Nicola Savino, no less than in front of a Radio Deejay microphone. In the background, the notes of one of the hits of the moment. Their voices chase each other off-wave. But after a few minutes it's back on-air. «We are here, tight in a big radio hug, which is that of Dynamo Camp», Linus begins. «Alyssa, how are you doing with your voice in the headphones?» Asks Nicola. "Are you getting high? If you approach the microphone it is even more lecherous… ». Radio Deejay has been a partner of Dynamo Camp since 2009. Every year in the Deejay calls Italy program it hosts children, volunteers and families for a week, supporting the communication and fundraising campaign of solidarity sms (from 7 to 28 March 2021 on Radio Deejay, Radio Capital and on the main national TV broadcasters). An extraordinary opportunity to introduce listeners to the many stories of Dynamo. Like that of Alyssa, who literally confided in the microphones of Radio Deejay: «Thanks to the Camp I was reborn. For the first time, no one made me feel embarrassed as a blind person, as I do in everyday life. I have learned to value myself, I have understood that it is useless to hide my problem. I even thought that if one day I could hypothetically see I would end up feeling the lack of this condition, because it is now part of me ».
Stefano and Lara Mattivi, parents of four children, faced some ups and downs to get to the Radio Deejay studios, but as usual they made it, always with a smile, even though the car left them on foot and they arrived at in the presence of Linus and Savino practically with the tow truck. For Dynamo this and more: «There for the first time we did not feel like parents of disabled children but simply parents», they explain live. «For the first time Mattia and Giacomo did the things that everyone else did. And for the first time Luca and Federica played carefree, not as the brother and sister of disabled children ».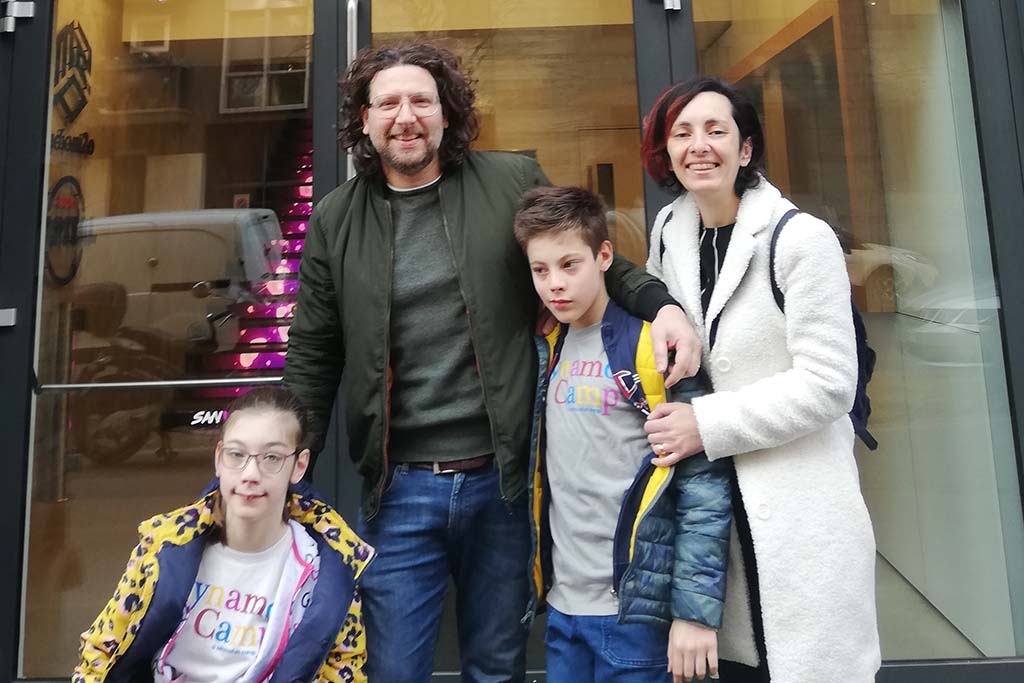 For the Di Gregorio family from Casalincontrada (Chieti), the trip to Milan to intervene in the program turned into an unforgettable holiday. "It was a dream!" Explains mother Silvia, who still can't hide her emotion after a year. "Imagine receiving a phone call in which they tell you that you will be the guest of honor with your family on the flagship program of Radio Deejay, interviewed by Linus and Nicola Savino. You feel happy and important. My husband and I grew up listening to this station and didn't sleep at night there. For the first time, then, my children, Riccardo and Anastasia, took the plane. Dynamo organized the trip down to the smallest detail, making travel easier in every way, especially for Anastasia, who uses a wheelchair. During the flight, while Riccardo was reading the Odyssey all the time, because he is passionate about mythology, her sister did not take her nose off the window for a moment. I, on the other hand, was pressed against the seat with my eyes closed because I am afraid of flying. "Mom, please, don't shame me, behave like an adult", Riccardo hastened to tell me. Once in Milan, they took us to visit the city. We had never been there: now every time we see the Duomo on TV we remember the time we admired it from a taxi thanks to Dynamo ».
At Radio Deejay Riccardo immediately got into the role and faced the interview in a familiar atmosphere. It goes without saying that when Linus and Nicola learned of his passion for the Odyssey they couldn't resist making some nice jokes. The boy told the microphones that his life asks him many whys, but that at the Camp these questions disappear, giving way to "I can, despite everything …" or to "I can, full stop!". "Dynamo was one of those important moments in my children's life," confesses mother Silvia again. "It was what was missing in their life. We have always tried to teach them to move forward despite everything, that value is always in the path, that you fall to get up and that difficulties exist to improve. But it is one thing to say it, one thing is to do it. We live in an area that is poor in structures and an inclusive mentality, so if I hadn't had Dynamo for them those would have been just fine words. At the Camp my daughter was even able to complete the climb, it is she who is afraid of her as soon as she is moved by the wheelchair and her head is spinning ". The whole town of Casalincontrada listened to Riccardo on Radio Deejay. And when he returned to school he was welcomed as a hero, definitely much more than Ulysses returning to Ithaca. "Rich", a classmate told him, "I would have done it in front of the microphone and you, on the other hand, were able to stand up to Linus and Nicola Savino with your jokes … You are great!".
Source: DYBC MAGAZINE