Campers' brothers and sisters can have fun too at Dynamo, with their parents or in dedicated sessions. An opportunity to get to know other kids who, like them, live with a disease condition in the family and to start seeing everything from another perspective.
«When I heard that my brother was also coming to Dynamo in the Siblings sessions, I got a little angry. I have always considered the Camp as a consolation prize for what life has taken from me, staying in the hospital for a long time, not being able to see my friends, nor what the world is like. I thought my brother did not have the right, since this is a place dedicated to those who have only had lemons squeezed in their faces from life. Then, however, I realized that it is right for others to try it too, so that they understand what Dynamo is and what real fun is. It is like a gift that Dynamo gives to our brothers, who may have been in pain for us when we were in hospital.. ».
Gabriele's worlds, a teenage camper, express with disarming authenticity the meaning of Dynamo's Siblings sessions, those that welcome the healthy brothers and sisters of the campers. When family life is completely altered by a child's illness, siblings also suffer, often seeing their needs neglected and being forced to make difficult adjustments. It is a complex emotional experience, characterized by fluctuations and sometimes even by conflicts, to which is added the intertwining of feelings towards the brother, who can be the object of jealousy and anger or of love and concern, even alternately. . Thus, the Siblings sessions also offer these children the opportunity to regain possession of their childhood, or adolescence, in a safe and fun environment, as well as the opportunity to share a carefree week with other peers who live in the same situation as themselves.
Simona, twenty years old, a medical student living in Barletta, was at the Camp a week in April, as Sibling, with her parents and her brother Francesco. "The first day I was a bit confused," she confesses. "Then, instead, I started talking, relating, sharing and I felt more and more at ease. If at first I couldn't even get up to dance, at the end of the week I didn't miss a single song. I felt welcomed by everyone ». Simona explains with frankness and a little emotion what it means to be Sibling in everyday life: "I suffered a lot from loneliness: first of all in my city we don't know anyone who lives the same condition as us; moreover, I don't talk about my brother's illness with friends and I avoid posting videos or photos with him so as not to have to answer uncomfortable questions. I still can't talk about him without crying. At Dynamo, however, I suddenly found myself together with families who shared our same difficulties, and this gave me so much strength to face life. I met other girls, with whom I am still in contact: I discovered that they too feel alone like me and cannot talk about it. With one in particular, I shared the most intimate feelings, such as the fear of leaving home, even just to go to university, which for us Siblings means depriving the family of help. Dynamo allowed me to see everything from another perspective, to understand that I am not only "Francesco's sister", but Simona. On the other hand, it was nice to see him integrate with others, he who is usually always and only with us. He didn't want to go home anymore! And I also came back joyful, full of energy, with the feeling of being able to break the world. I thank Francesco because if I am like this today I owe it to him: his difficulties have strengthened me. I hope to be able to volunteer at Dynamo, I would really like to be of support to the staff, especially in the Siblings sessions ».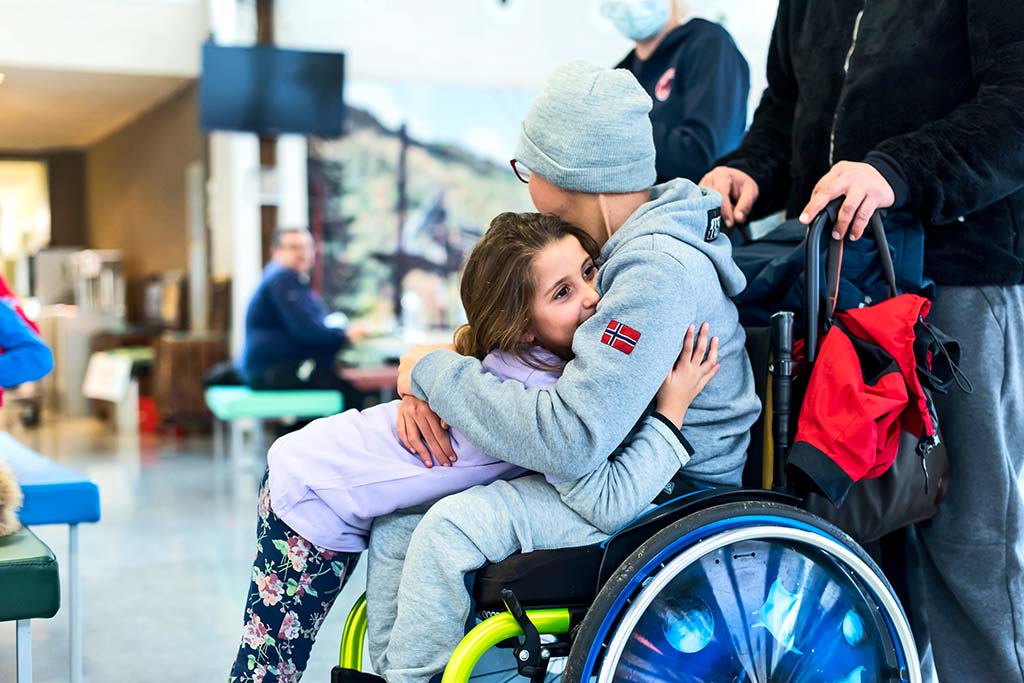 Angelina, 13, from Milan, is also a Sibling, who among dances and climbs got to know the Camp in the Families program. "We don't usually hang out with people who live in the same condition as us, which is why I have always believed I was" the only one ". So I thought I would also be alone at Dynamo », she reveals. «I never imagined, however, to meet, during this experience, the one who became my best friend, with whom I was able to share confidences and also a lot of fun. Even today, it is enough to listen to a song heard at Dynamo to relive the same emotions. My brother Ugo also had a great time, he looked like he was in the clouds! ». Daniela, Angelina's mother, says: «With the other parents at a certain point we asked ourselves: why are they giving us this week of magic? We understood the answer at the end of the experience: to make us understand that you can overcome the psychological barrier that the world imposes on you. Here you are surrounded by smiles and you can give confidence. Thinking that we can return, we already have goosebumps ".
Siblings can enjoy Recreational Therapy even outside the Camp. Thanks to the agreement with Triennale Milano, for example, the Dynamo staff has brought its activities to the Lombard capital, in a dedicated space set up inside the Palazzo dell'Arte to create programs for Dynamo Art Factory, Radio Dynamo, Dynamo Musical , Dynamo Studios, a small circus and youtubing activity, aimed free not only for children and young people with serious and chronic diseases, but also for their brothers and sisters in an inclusive way. Daily activities started in May, but weekly City Camps are also organized from June to August. Furthermore, from the space in the Triennale Milano, the Dynamo staff broadcasts online programs aimed at children with serious illnesses welcomed in hospitals and family homes.
Source: DYBC MAGAZINE